BLEACHER REPORT: UFC Fight Night 49's Benson Henderson: Far Beyond Driven
Benson Henderson is as goal-oriented as you'll find in the fight business.
The former WEC and UFC lightweight champion is a man fueled by possibility and the potential to test his physical and mental talents against the most elite level of competition in the world. Those motivations matched with a seemingly unbreakable spirit and unique skill set have taken the MMA Lab leader to great heights in the realm of mixed martial arts, and his quest—in some senses—is far from over.
In Henderson's mind there are still many battles to be fought, wills to be broken and victories to be had inside the Octagon. He's a fighter marching to the beat of his own drum, and in the current era where circumstance and injuries put title pictures on hold at lengthy clips, Henderson slows down for no one. While his eyes have been set on regaining the title he lost last August, he can't control the decisions made by others, and he's not keen on sitting around on the sidelines waiting for things to play out.
Henderson operates in the present tense and believes the here and now belongs to him. The lightweight strap has been out of play ever since it left his possession last August in Milwaukee, and he's proceeded with his business as if it was the very next step around the corner as the 30-year-old Arizona transplant has picked up two crucial victories in the interim.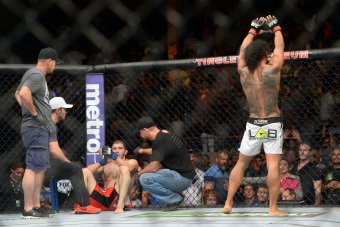 USA TODAY Sports
"Smooth" edged out Josh Thomson via split decision when the two squared off at UFC on Fox 10 back in January, then ran roughshod over highly touted Dagestan-born fighter Rustam Khabilov in Albuquerque, New Mexico, five months later. As Henderson pointed out in his post-fight interviews, he's put the lightweight division "on his back," and he has no intention of taking his foot off the proverbial gas pedal anytime soon.
"I'm doing my best to carry this division," Henderson told Bleacher Report. "The belt is on a temporary hiatus—it is what it is—and I'm doing my best to keep the division moving forward and to keep people talking about it. I'm doing the best I can."
In regard to those efforts, Henderson has kept remarkably active in comparison to the rest of his peers on the lightweight roster. With the exception of fellow WEC alum Donald Cerrone, the Colorado native's activity has been unmatched as he's competed 10 times in the three years he's been under the UFC banner, with his 11th showing on deck for this weekend at Fight Night 49. These numbers are impressive, and even more so when the current rate of fighter injury is taken into account.
Furthermore, Henderson is notorious for his work ethic and dedication to being in the gym working with his teammates at the MMA Lab, which means either the perennial contender is doing something special or other fighters across the fighting landscape are taking the wrong approach to their preparation.
"I think a big part of it comes down to your coaches and training partners and making sure you have guys you can trust with you in the gym," Henderson said. "You don't want a case where some guy is having a bad day at home with his wife and comes into the gym where you are drilling arm locks and he snaps your arm because he's had a bad day or something like that.
"It's really important to have a great coaches and a great training staff who know when to push you and know when to ease off. It's important to have coaches who can recognize when you need to pull back, regroup and come back tomorrow ready to get after it.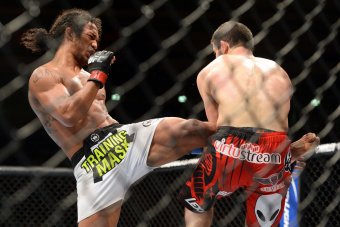 USA TODAY Sports
"Another big part of it is knowing yourself and knowing when to calm down," he added. "I work hard now, but earlier in my career I was in the gym all the time and training all the time. Back then my coaches had to hold me back, but I had to learn how to hold myself back as well. But those are things you learn over time."
With the lightweight title tied up until Anthony Pettis and Gilbert Melendez handle their business on Dec. 6, Henderson will continue to scrap his way toward another championship opportunity. Following his dominant performance against Khabilov back in June, he could have taken to the sidelines to allow things to play out, but that simply isn't the way he goes about his business.
Instead, he opened the door for another challenge to materialize, and he will face Rafael dos Anjos at Fight Night 49 in Tulsa, Oklahoma. Much like Henderson, "RDA" has been on a hot streak of his own, and the Glendale, Arizona, representative is looking forward to mixing it up with the savvy Brazilian this Saturday night.
"It's a great fight from a stylistic standpoint," Henderson said. "We are both southpaws and we both push the pace. He likes to push the pace and come forward and does a really good job at it. I'm trying to do the same thing. I'm always looking to push the pace and use my cardio to my advantage. I want to test my opponent's cardio and push their muscular endurance to a place they've never been before. He likes to do the same thing, and it's going to be nice to get in there with someone who wants to throw down as much as I want to throw down."
USA TODAY Sports
While a victory over Dos Anjos would bring him one step closer to achieving his goal of regaining the lightweight strap, Henderson is also conscious of the time line he's operating on. The former champion has been outspoken in the past that he's not going to be a fighter who allows the sport to leave him in shambles, and he has set a hard line that he will retire by the age of 34.
With Henderson having officially crossed over into his 30s last November, that leaves the hard-charging lightweight cardio machine just three years to accomplish every goal he's set out to achieve in mixed martial arts. Even in a rapidly moving sport like MMA, three years isn't a big window by any standard, and a highly motivated Henderson on a race against time could very well spell bad news for the rest of the 155-pound fighters on the UFC roster.
"I'm not going to be fighting that much longer—that's for sure," Henderson said. "I'm all about setting goals and doing the best I can to go out there and go get them. I give myself a certain time limit to get those goals done. I will retire when I'm 33 and before I turn 34. This is a tough sport and we see a lot of athletes retire somewhat early in their careers nowadays. Whether you are a mixed martial artist or a football player, your body gets beat up. You get mentally ran down and cutting weight sucks. There are just a lot of things that play into it and they all take a toll. I won't be around forever so enjoy it while you can.
"That's why I'm trying to go as hard as I can. I'm trying to get as much as I can because I know I'm not going to be here for too much longer. I'm trying to hurry up and get everything I can in."
Duane Finley is a featured columnist for Bleacher Report. All quotes are obtained firsthand unless noted otherwise.